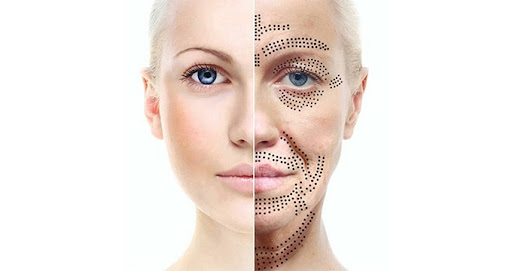 Plasma Fibroblast is a non-invasive skin tightening, anti-ageing treatment for your skin. A fibroblast treatment is delivered using an electronic handpiece containing a small metal probe that when exposed to atmospheric gas (nitrogen) produces a tiny plasma flash between the device tip and the client's skin. This tiny superficial thermal trauma causes the skin in its vicinity to tighten and lift, giving results that are immediately noticeable after just one treatment. Over the next 90 days the elasticity of the skin and the skin tightening effects will continue to progress as the healing of the skin promotes the production of new collagen and elastin. Plasma Fibroblast can be performed on the face, neck, hands and most parts of the body, and may assist with lifting and rejuvenating the appearance of droopy eyelids, crow's feet, neck wrinkles and stretch marks.
During treatment a numbing cream is applied to reduce any discomfort. Small plasma dots will form and there will be mild swelling of the treated area for a few days. The dots remain on the skin for between 5 and 12 days and will shed naturally. The area must remain dry for 48 hours after treatment. It is important the dots remain as undisturbed as possible until they shed so that the new, rejuvenated and tightened skin has time to form underneath.
It takes at least 12 weeks to see final results and you may continue to see improvements to the area for up to 6 months. Further treatments can achieve better results. Areas may be retreated every 3 months.
Crows Feet $400Under Eyes & Crow's Feet $700Forehead Lines $400Eyelid Lift $700Nasolabial Lines Lift $700Top Lip $250Mid-Face Lift $700Jowls $600Half Neck Lift $350Full Neck Lift $750Stomach Area: $850Skin Tags $200
2x Fibroblast Treatments 2x Skin Needling Treatments (Each treatment approximately 4 weeks apart) $1600, allow 60 minutes per treatment.
BOOK ONLINE
Book online for your next appointment. If you are unsure about which treatment is right for you, please use our online booking system to book your free consultation today.